Looking forward to a year of creativity and productivity  
OUR 2022 CREATIVE IMPACT
Led by Founder and Artistic Director Yue Yin, YY Dance Company is a not-for-profit contemporary dance company based in New York City. The company's mission is to create, produce, and perform works of dance featuring Yin's signature FoCo Technique™, a unique synthesis of Chinese dance elements and western contemporary inspired dance. The company proudly collaborates with world-class dancers, musicians, and artists while teaching workshops to expand educational opportunities for all movers in the world of dance.
This year YYDC performed at Asia Society Museum, Jacob's Pillow Dance Festival and went on tour to Italy in Nov for the first time with two powerful ensemble dance works. Additionally, the company received a Regrowth and Capacity grant of $10,000 from the New York State Council on the Arts for FY 2023. This grant will support the organization's development, as the company continues our ongoing recovery from pandemic challenges. 
OUR 2023 VISION
YYDC will continue its mission in creating original dance works and teaching both virtual and in person classes. Yin will create for YYDC a new evening length dance ensemble work to be premiered in June at Chelsea Factory in NYC featuring original music, an expanded company with 8 performers, new costume design and innovative lighting design. In Summer the company will host a week long in person intensive course in NYC in July to welcome dance practitioners from all over the world to experience FoCo Technique ™ and YYDC repertories. In Fall, the company will present another new production to be premiered New York City. 
SUPPORT YYDC
We are asking you to consider making a tax-deductible donation today to help ensure our company's ongoing work and to engage in the company's artistic contribution to the community. We are deeply grateful for the passion and generosity of our supporters - without you the mission of YYDC would not be possible.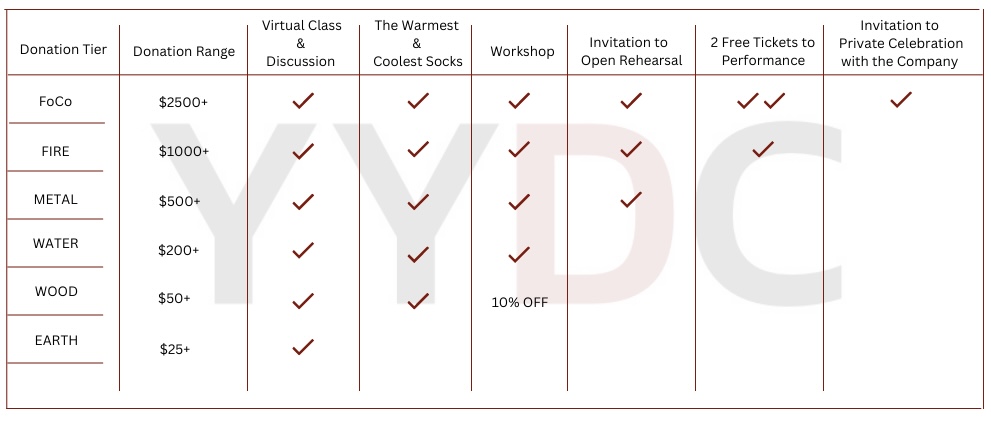 If you wish to donate by check, please mail your check to:
YYDC, INC,
50 Franklin Street, Suite 16B,
New York, NY 10013